The Royal Marsden Manual (9th edition) now supports OpenURLs for the chapter references section.
To setup OpenURL you can either contact the Wiley Customer Care team eal@wiley.com or follow this simple guide to set it up from your Subscriber Services pages.
Log into subscriber services with your subs username and password (not to be confused with the main RMM9 site username and password).
*If you are unsure of your subscriber services password please contact the Wiley Customer Care team eal@wiley.com
Once logged in go to Account Preferences

Fill in your link resolver address.
The OpenURL version must be set to 0.1
The OpenURL metadata format must be set to KEV (Key Encoded Values).
If you have a public Resolver Icon URL this can be entered for Resolver Icon or it can be left blank.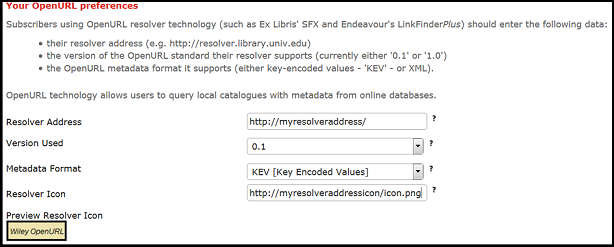 Important
These changes can take up to an hour to come through to the client pages, due to the way the access servers cache the information.
Once setup is done, the customer will be able to click on the OpeunURL and be taken to either the login screen for the resource, or if they are already logged into the resource via Open Athens be taken straight to their resource article if one is found.
Below is an example of the OpenURL links when an Icon is not used:
Below is an example when an icon file is supplied: